Antioch Church of Long Beach
Antioch Church of Long Beach
From Salvation to Relationship to the World with your unique gift!
Long Beach, CA
Who We Are
Antioch of Long Beach is a body of believers in Christ Jesus as our Lord and Savior. Impacting the city of Long Beach with services throughout the week. Sunday's at 8:30, 10:30 and 12:30, Wednesday's Family Night with activities for all ages. Those in attendnace are ages reaching across all walks of life, from pre-school to the wisdom of our senior community. Families, singles, and empty nesters are the dynamics felt throughout the congregation. Members come to worship from several surrounding cities into Long Beach each week.
About Us
Our Services
Leadership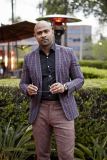 Wayne Chaney, Jr.
Senior Pastor
Pastor Wayne A. Chaney Jr., a native of Los Angeles, California was destined for ministry. Descending from a long lineage of pastors, ministers, and teachers, he was always under the influence of Godly men and women. In the proximity of completing his education at Morehouse College in Atlanta, GA. he was called to the ministry. He returned to Long Beach to work alongside his mentor and grandfather, the late Joe Chaney Jr. Standing on the legacy laid by his grandfather and reaching for his destiny, he became pastor of Antioch Church of Long Beach, a vibrant, flourishing congregation of believers. The church membership doubled in two short years and continues to grow exponentially under his leadership. The vivacious and lively worship atmosphere has directly impacted the lives of countless individuals. Pastor Wayne's defining characteristics are wisdom, integrity, and faith. His messages are described as warm and intimate, sprinkled with humor yet drenched with passion and power. His unique blend of inspired creativity, God breathed insight, along with what he describes as "the presence of the Lord" creates an atmosphere that leaves individuals in attendance forever changed. As a prolific Bible teacher, he instructs believers by enlightening scripture in a unique and practical way. Divinely inspired, Pastor Wayne assists believers on their journey from a salvation experience to an intimate relationship with God, propelling them into the world with a unique ministry.