All Souls' Episcopal
All are Welcome at All Souls' Episcopal Church. Come join us.
Ansonville, NC
Who We Are
All Souls' provides a welcoming, holy place encouraging spiritual growth and care to all in the tradition of the Episcopal Church. Holy Eucharist services are held at 8 a.m. each Sunday throughout the year. All Souls' also holds the Rogation Sunday service and a "Feast of Lights" Christmas service and others at different times. All Souls' schedule updates are listed on the Calvary Episcopal website: http://www.calvary-wadesboro.dionc.org/
If your schedule does not permit you to join us at 8 a.m. at All Souls' in Ansonville, consider going to Calvary Episcopal in Wadesboro, just 8.5 miles south of Ansonville, for an 11 a.m. service held there every Sunday.
About Us
Leadership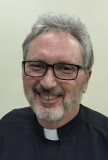 Tim Hushion
Vicar
Fr. Hushion and his wife Marcie have three adult children, all of whom live in the Charleston, South Carolina area. They also have three grandchildren. He holds a Master of Divinity Degree from Trinity School for Ministry in Ambridge, Pennsylvania, an associate degree in Nursing from Trident Technical College in Charleston, and a Bachelor of Arts degree in history from The Citadel, Charleston. He has completed most of the coursework required for an MBA from The Citadel. He has worked as a priest, a general contractor in South Carolina, and a nurse. From 1973 - 1976, he was Capt. Tim Hushion, U.S. Marine Corps, assigned to post in the U.S. and Southeast Asia as an air support control officer. Fr. Hushion became the 38th Rector of Calvary Episcopal Church on January 1, 2016. He also serves as Vicar of All Souls' Episcopal Church in Ansonville, NC.