All Saints' Episcopal Church
All Saints' Episcopal Church
Who We Are
We are the progressive liturgical church of Western Springs. All are welcome to join us as we worship, serve, and learn. All are welcome- no matter who you are or where you find yourself on the journey of faith.
All Saints is a small, friendly community. We are "the church where everyone knows your name" and pride ourselves on a friendly and fun atmosphere. Services are held at 8:00 and and 10:00am on Sundays, with formation for all ages (yes, adults too!) at 9:00.
We worship in a "broad church" style, which will feel very familiar to you if you grew up in a Roman Catholic, Lutheran, or Episcopal setting. Communion is celebrated at each service, and we welcome all to God's table! When the worship service ends, we consider our service just begun, and are involved in our community as members of many clubs and associations. All Saints' Outreach Committee is also very active, and partners with local non-profits to support all our neighbors.
Are you looking for a new church in Western Springs? Do you want to connect with others serving God and loving our neighbors? Are you hungry to renew your connection with God, or feel that you're missing just a little extra purpose in your life? We invite you to join us and see if All Saints can be your home, too.
About Us
Our Services
Leadership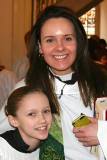 Kate Spelman
Rector/Senior Pastor
The Rev. Kate Spelman joined All Saints as rector in April of 2014. Previously, Rev. Kate served as Assistant Minister at Christ Church in Philadelphia, one-time church home of Benjamin Franklin, Betsy Ross, and George Washington. Although a native of the Philadelphia area, Rev. Kate considers herself a lifelong Midwesterner, with family scattered around Wisconsin, Illinois, and Michigan. Kate is a graduate of the University of Chicago with a BA in Anthropology and Linguistics and of Yale Divinity School with a Masters of Divinity, where she earned the Mersick prize for excellence in preaching and concurrently earned a Diploma of Anglican Studies from Berkeley Divinity School. In her free time, Kate enjoys knitting, reading, and trying new group exercise classes at the gym.