Cranberry Township, PA
All Saints Anglican Church
All Saints Anglican Church
real people, redeemed by Jesus, Gospel focus, liturgical, Anglicans.
Cranberry Township, PA
Who We Are
A new church in the heart of residential Cranberry Township, PA. Our message is: the grace of God in the person of Jesus Christ. We're a church of the Anglican Diocese of Pittsburgh, and members of the Anglican Church in North America (ACNA).
About Us
Leadership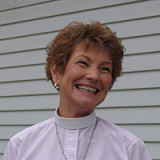 Marybeth Carey
Deacon
Marybeth grew up in Big Stone Gap, Virginia. She and her family moved to Pittsburgh in the 1990s and attended St Christopher's Church in Warrendale. While there, she heard the Lord's calling to the vocational deaconate. She was ordained a permanent deacon in June 2008. She has served as Parish Deacon since 2008.