Advent Lutheran Church Winchester, VA
Who We Are
Come Worship Jesus Christ in Spirit and Truth!
We are a classically Lutheran parish that values its Confession of faith, ongoing Christian education, and the mission of the Church of Christ. By the grace of God, we witness to His coming Kingdom while preparing people to enter into it. As forgiven and renewed sinners, we strive to build up the people of God for the good works which Christ has prepared for them. Our worship is traditional and liturgical as we seek to be reverent and orderly, but not wholly intimidating. The pastor chants the liturgy of Holy Communion every Sunday, and the hymnody varies from the traditional to more contemporary. We use the Lutheran Book of Worship. We have a number of ongoing educational ministries for adults. Our congregation is small and friendly, and we pray that by the Holy Spirit's work, you will come to worship and grow with us!
---
---
Our Services
Service Times
Sunday
08:30am

-

Divine Service of Holy Communion
What to Expect
---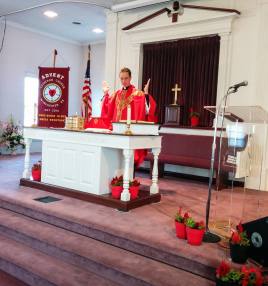 Christopher Porter
Pastor
Originally from Detroit, Michigan, Pastor Christopher Porter is the first called pastor of Advent Lutheran Church NALC, and this is his first call to the Holy Ministry. He received his B.A. in Psychology from William Tyndale College in 2003, and an M.Div. in 2014 from Lutheran Theological Southern Seminary/Lenoir Rhyne University. In 2012 he received additional education in catechetical instruction from SS. Cyril and Methodius Seminary in Detroit, Michigan. Prior to receiving his M. Div., he served as a lay preacher for Lutheran CORE congregations in North Carolina, and served as a lay Bible teacher and Deacon intern at Historic Trinity Lutheran in Detroit (LCMS). He is blessed with a wonderful wife, Colleen, and two radiant children: Ben and Rachel. He loves philosophy, film, the arts, literature, kayaking, and cooking (especially Southern cooking!), but he thinks the greatest thing in the world is to be able to preach, teach, and administer the Holy Sacraments to God's people. And, he would love to talk with you about the great things God has done for all humanity in Christ, Jesus, the Lord and Savior of the world.
---