About
Lutheran (ELCA) churches describe themselves with words like traditional liturgy, friendly, and casual.
Popular church music styles include traditional hymns, contemporary, and organ. Lutheran (ELCA) churches often offer community service, adult education, choir, children's ministry, and youth group programs.
Featured Leader
The Rev. Taylor W. Burton Edwards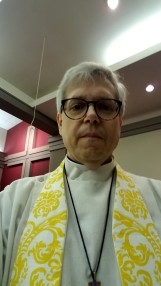 Originally from Cincinnati, Ohio, Rev. Taylor W Burton Edwards is pastor of St. Matthew Evangelical Lutheran Church in Columbus, Georgia and Director of Ask The UMC, the United Methodist Information Service. He also serves as Secretary of the North American Academy of Liturgy, Treasurer of Th...
...read more
---