Who We Are
Reaching Out, Welcoming and Supporting God's People
An Episcopal community of people of all ages, from all walks of life and all faith backgrounds. We invite and welcome everybody to check us out or join us. The Holy eucharist is celebrated Sundays, at 10:30 am
---
---
Our Services
Service Times
Sunday
10:30am

-

Alternating Holy Eucharist and Morning Prayer every other Sunday
What to Expect
---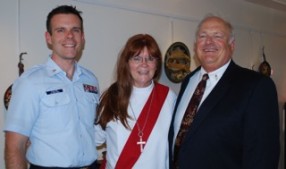 Sandy Chilese
Deacon
Sandy Chilese was named Clergy in Charge for Sts. Philips and James Episcopal Church in Morenci, AZ by the Right Reverend Kirk Smith, Bishop of the Episcopal Diocese of Arizona. She will assume duties on July 1. Sandy has made a career out of outreach, of sorts. A life-long volunteer, she has worked in healthcare public schools and within the church specifically recruiting and training people to share their time and talents with others. This began as a teenager when she found out about "candy stripers" at the local hospital and wanted to join. Through college where she earned a bachelor of science degree in journalism with a minor in public relations, she always had an eye on organizations that needed help, small and large. In fact, it was a hospital volunteer who introduced her to her husband. "Initially, I wanted to be nurse, but I have Benign Essential Tremor that affects my hands. People don't seem to trust nurses with shaky hands," Sandy shared with a laugh. So, she did the next best thing: She began working in the hospital system in the Public Relations Department writing newsletters for employees and the public as well as creating and writing informational brochures specific to the hospital care and treatment programs along with organizing and executing large and small functions. Duties also included a smattering of photography, teaching and leadership training too. This put her in touch with the Volunteer Services Department and that's where she found her passion spending the last 15 years as the Director of Volunteer Services at a Glendale Arizona hospital. Sandy explained that it was working with the volunteer chaplains at the hospital that she began to recognize a call to ministry, that was just getting louder and louder. "I realized that I had been pushing God's call — not away, but maybe down and to the right a little," she said. " I was finally at a point where I could no longer do that; our son was grown and settled. My husband was retiring and I was thinking about what I wanted to do with retirement." Apparently the answer was — not retire! Sandy began her religious education through the Episcopal Diocese of Arizona taking online classes offered from Church Divinity School of the Pacific. She felt that these new options for priestly training would best allow her to pursue this goal given that Sandy felt she couldn't leave home to attend a regular seminary program. Initially, she was enrolled in a program known as "low residency" which allowed the seminarian to study from home spending two to three weeks during the summer on the seminary campus. Bishop Kirk Smith had other ideas. Sandy tells the story: "I was literally sitting at the dining room table preparing a sermon from the gospel of Luke 9:58…It's the "cost of following Jesus… where one man says he wants to follow Jesus, but first asks if he can bury his father to which Jesus replies, "Let the dead bury the dead." Then another man says he wants to follow Jesus, but wants to say goodbye to his family and Jesus basically tells the man that if he is going to follow Jesus, he doesn't look back to his old life. I was thinking that Jesus' response seemed so harsh and I didn't feel what the followers were asking was so unreasonable. What would I do? At that moment, I got the email saying the Bishop wanted me to spend a year living on a seminary campus. And, I thought, well, I guess I'm going to find out what I'm going to do." She spent the last year at The Episcopal Theological Seminary of the Southwest where she earned a diploma in Anglican Studies graduating this past May. In early December Sandy will receive priestly ordination become Vicar. She will live in Morenci full-time while Fred, her husband of 30 years, will spend the majority of his time here but continue to teach through his personal business and at Glendale Community College in the Phoenix area two to three days a week. Sandy and Fred, who is a retired federal probation officer, have a son, Matthew, serving in the United States Coast Guard currently stationed in Alameda, California. They are both "nearly life-long residents" of Arizona. Sandy and Fred went to high school together, but didn't meet until 10 years after they graduated because the high school as so large. There were more than 5,000 students which required double sessions. They were both raised in the roman catholic church. However, when they were married, they decided to look for a church where both could find their place in God's house. While Sandy volunteered in church offices, as a Sunday School teacher, an as a member of the altar guild and vestry, Fred found his calling in the ministry of music, playing guitar and working with children's programs which allowed him to become more involved in activities with their son. Fred continues in the ministry of music playing with a small group of musicians and vocalists who bring praise and worship services to the residents of assisted living facilities once a month. Sandy loves to sew with quilting being the current passion and she always enjoys hiking and camping. Fred enjoys playing music on his guitar and bicycling. They have a motorhome and enjoying exploring as well as shooting sports.
---
A sweet little church with a great big heart! Definitely worth your time if you are looking for friendly, family-oriented Christian experience.
Create an account or sign in to save your experience.
Go here? Tell us why you love Saints Philip and James. Visited? Tell us what a newcomer can expect.