Giving, online.
Break barriers, not traditions
Resisting materialism, consumerism, and selfishness is hard. We give you the tools to fight the good fight. Allow givers to set-up recurring and one-time donations via web, mobile or text. No checks or cash required.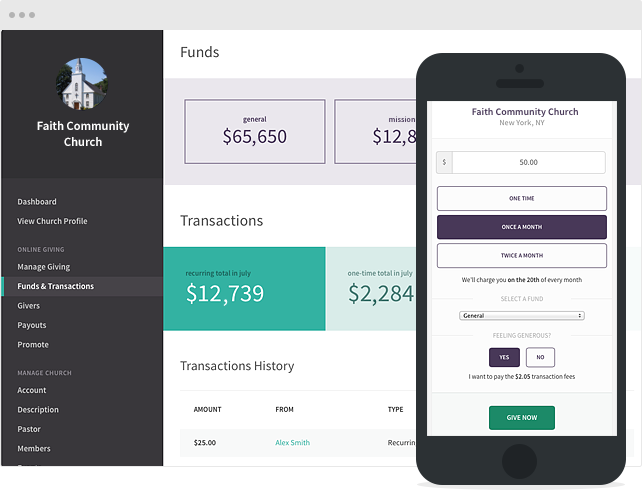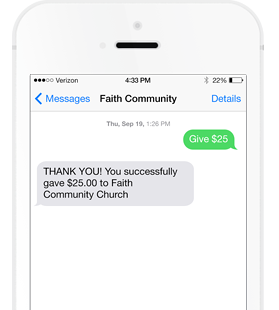 Text to Give
As simple as texting a friend. We've seen it take givers from sporadic to faithful.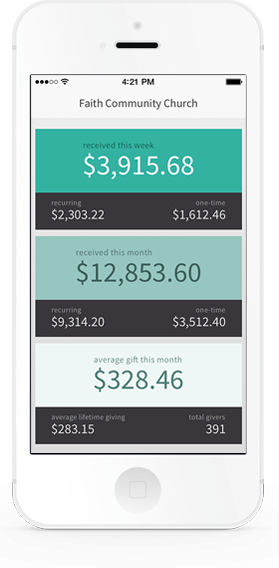 Leader app for iOS
Leader provides the easiest way to see how well FaithStreet Giving is working at your church. With Leader, you can instantly view essential metrics and stop waiting for the weekly stewardship report.


Download on the

App Store
The right tools for the job
Features
Friendly, easy-to-use giving experience for your church
Flexible recurring and one-time giving
Mobile-friendly design for any device
Reduce costs by allowing giver to pay the transaction fees
Text giving
Pledge/goal setting and tracking
Shareable, giving campaigns
Notifications of important giver events
Detailed, but easy to understand reports
Launch assistance and expert advice
Easy integration with your website
Integrations with Church Communtity Builder (CCB), Fellowship One, RockRMS, and Planning Center Online
Bookkeeper and accountant-friendly
Phone and email support
Unlimited administrators
Unlimited fund designations
---
frequently asked questions
How does FaithStreet work with my current website?
FaithStreet Giving integrates the best online giving experience with your current website, your Facebook page and your phone's text messages. Set-up only takes a few minutes.
Givers can set up instant or scheduled, recurring gifts with their debit cards, credit cards or bank accounts. They can customize when these gifts process.
Do you provide CRM, volunteer management, events management or other supplemental services?
No. FaithStreet is 100% focused on giving and stewardship. We're a great fit for churches who want the best online giving system, and we aren't a great fit for churches who want a one-size fits all solution. We do play nicely with most accounting systems.
What's your mission?
To encourage and inspire faithfulness.
What's your BIG vision?
We want to make faithful giving as natural as spending.
Paypal (or some other system) is cheaper.
FaithStreet is the best value for two reasons. (1) We're creating a new standard in faith-based giving. FaithStreet makes online giving thoughtful and intentional. Other systems merely move money from point A to point B. (2) We offer the most flexibility of any online giving option in terms of pricing. We offer a unique, one-time payment option. We're also willing to work with your church to determine a cost structure that works for us both! (3) FaithStreet is for churches who embrace abundance and faith over scarcity and fear.
How is FaithStreet different from other online giving platforms?
Here are a few ways:
We think it is more important that giving be faithful than easy.
We treat giving as a regular part of life, not a special occasion.
We offer super-flexible pricing.
Is FaithStreet for me?
If you can answer yes to at least one of these questions, then FaithStreet Giving is for you.
Do you highly value stewardship, but find most giving tools don't match those values?
Are you leading a church in transition ready and willing to do things a bit differently?
Are you simply looking for the best way to build faithful givers?