St Theodore
Ancient, Orthodox, Catholic, Radical; Proclaiming the Gospel of Christ
Alliance, OH
Who We Are
You are most welcome to attend St Theodore Parish. If you are interested in discovering the mystical truth of the Christian East, ancient Christianity and practicing the works of mercy you will be interested in coming to visit us.
St Theodore Romanian Catholic Church is a Byzantine Rite Parish under the Eparchy of St George the Martyr in Canton, headed by Most Rev + John Michael Botean. Founded in 1909 the parish is associated with the Alliance Catholic Worker community.
We are a community proclaiming the Gospel of the Risen Lord Jesus to our culture. Celebrating the Sacred Mysteries and practicing His works of mercy we live communitarian and relational lives nourished by the merciful, forgiving and compassionate nonviolent Love of Our Triune God.
About Us
Our Services
Leadership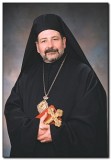 John Michael Botean
Born in Canton, Ohio, on July 9, 1955, to John and Amelia (Popa) Botean. One younger brother, Mark S. Botean, of Stow, Ohio. Ordained priest May 13, 1986. Ordained bishop August 24, 1996. Present activities Bishop of the Romanian Eparchy of St. George the Martyr in Canton (legal title: Romanian Catholic Diocese of Canton); Member of the Committee on the American College of Louvain (Region VI), past Episcopal co-sponsor, American section of the Society of St. John Chrysostom; past member of Ad Hoc Committee on Bishops' Life and Ministry of the United States Conference of Catholic Bishops; past secretary of Eastern Catholic Associates (organization of Eastern Catholic hierarchy in the United States) Education 1973 Graduated Oakwood High School, Plain Local School District, Ohio Canton Repository Teenager of the Year Timken Company Scholarship winner 1974 St. Fidelis Seminary, Herman, PA 1977 A.B. in Philosophy summa cum laude, Phi Beta Kappa The Catholic University of America, Washington, DC 1977-1981 St. Gregory Melkite Seminary, Newton, MA Holy Cross Greek Orthodox School of Theology (Boston Theological Institute) 1985-1989 Catholic Theological Union, Chicago, IL Assignments/Employment Romanian Catholic Diocese Bishop 1996-present Romanian Catholic Diocese Vicar General, then Apostolic Administrator 1993-1996 St. George Cathedral, Canton, OH Rector 1990-1993 St. Michael Church, Aurora, IL Pastor 1986-1990 Pax Christi USA Center on Conscience and War, Cambridge, MA Staff Member Center for Applied Research in the Apostolate (CARA), Washington, DC Administrative Assistant