Washington, DC
St. Paul's Parish
St. Paul's Parish
A place for you, 365 days of the year.
Washington, DC
Who We Are
Welcome to St. Paul's, K Street! We invite you to join us on any day of the year. Daily worship is at the heart of this parish church, and at St. Paul's we celebrate Mass 365 days of the year. The church is located in the midst of busy downtown Washington, only minutes from government offices, the Kennedy Center, and several local universities. Our ministries, fellowship, hospitality, spreading of the Gospel by word and example, outreach to the poor in our community, and formation as Christians all flow from the daily worship of God together.
As a parish within the Anglican Communion and the Episcopal Church, our worship is grounded in the rich liturgical heritage of The Book of Common Prayer, expressing a worship tradition rooted in two thousand years of church history. Whether we gather for a formal high Mass sung by one of our extraordinary choirs, the simple daily recitation of Morning or Evening Prayer in our small chapel, or silent contemplative prayer together, the rhythm of daily worship underpins everything we do. We invite you to worship with us and find out what makes us who we are.
Our parishioners come from a wide range of religious, political, social, and economic backgrounds. A quick survey of a pew on Sunday might find worshipers from varied religious backgrounds, and federal workers from both the left and the right mingle at coffee hour. All are united as one body in Christ and join together in the worship and mission of the church. We hope you will join us in this commitment.
About Us
Our Services
Leadership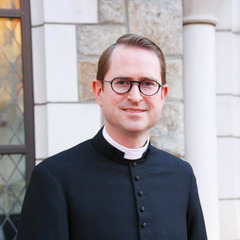 The Rev. Nathan Humphrey
Fr. Humphrey began his ministry at St. Paul's as curate on October 15, 2005, and was made parochial vicar on June 1, 2010, in which capacity he also serves as the parish's Scholar-in-Residence. He served as priest-in-charge for six months during Fr. Andrew Sloane's sabbatical in 2011, and has assumed this position again as of Fr. Sloane's retirement on January 27, 2013. He previously served as curate at Saint James Parish and Academy, Monkton, Maryland, and taught in their day school. Before his ordination, he served as chaplain and religion teacher at Washington Episcopal School in Bethesda, Maryland. He grew up in Southern California and came to Maryland in the early 1990s to attend St. John's College in Annapolis. While in college, Fr. Humphrey attended St. Anne's, the church in Church Circle, Annapolis, but was directed to our parish to make his first confession. He attended Yale Divinity School. He has been married since 2004 to Anne Stone; they have two young children, a girl and a boy.