St. John's Episcopal Church
Diverse church following Christ through liturgy, education, & outreach.
Grand Haven, MI
Who We Are
Welcome to St. John's Episcopal Church, a community of faith. Our parish has a diverse membership in age, race, education, vocation and talents. Some of us have grown up in the parish while others are new to the Episcopal Church.
The Episcopal Church historically welcomes a variety of attitudes and lifestyles, which reflect the diversity of God's creation.
If you are visiting our area, we hope you will come and worship with us. If you are seeking a church to call "home," we pray for God's guidance in directing your path to one of our services.
About Us
Our Services
Leadership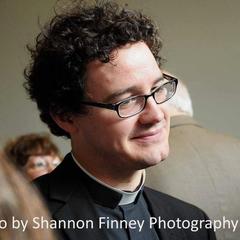 The Very Rev. Jared C. Cramer
Father Cramer was raised in the Churches of Christ, and worked in several ministry positions in that tradition before moving into the Episcopal Church while completing his Master of Divinity at the Graduate School of Theology of Abilene Christian University in Abilene, TX. He then received his Anglican training through the completion of a Master of Sacred Theology at the School of Theology of the University of the South in Sewanee, TN. Father served his first cure as a priest in the Lilly-endowed Foundations for Spiritual Leadership Program at Christ Church in Alexandria, VA. After two years there, our parish, with the Bishop's consent, called him to come to St. John's to serve as our Rector Father is active in the Episcopal Church at many levels. He is the Dean of the Lakeshore Deanery of the Episcopal Diocese of Western Michigan. He is a part of the Episcopal Church's ecumenical relationship with the Faith & Order Commission of the National Council of Churches. He is a member of the Society of Catholic Priests in the Episcopal Church and the Anglican Church of Canada, where he serves on the Provincial Council. He has also written a book, Safeguarded by Glory: Michael Ramsey's Ecclesiology and the Struggles of Contemporary Anglicanism, available on Amazon.com. He resides in Grand Haven with his wife, Bethany, and their dog, Cappadocian. His reflections can be found on his personal blog: carewiththecure.blogspot.com