Sonoma United Methodist Church
Sonoma United Methodist Church
A Methodist (UMC) church in Sonoma, CA
Who We Are
As Sonoma United Methodist Church, we are part of the Body of Christ and uphold the call of the Gospel to love all people. We welcome and affirm all persons regardless of gender identity, sexual orientation, religious affiliation, age, race, ethnicity, physical abilities, and economic status. All persons are of sacred worth and created in the image of God.
We recognize that there are differences among us, but believe that we can love alike even though we may not think alike. We proclaim this statement of welcome to all who have known the pain of exclusion or discrimination in the church and society.
We promise, to the best of our ability to provide programs, ministries and pastoral care to all persons who seek God in this place. Above all, we seek to love one another as Christ loved us.
About Us
Leadership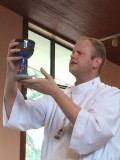 Matthew Pearson
Pastor
Pastor Matthew Pearson comes to Sonoma United Methodist Church with a variety of ministry and life experiences. He hails from Virginia, and moved west to attend seminary at Pacific School of Religion in Berkeley, CA. While in seminary he completed his field education, serving two years as pastoral intern at Glide Memorial in San Francisco. He has served as a youth director at Temple United Methodist Church and as campus pastor at the Ecumenical House at San Francisco State University. Sonoma UMC is Matthew's first appointment from the Bishop's Cabinet – He began July 1, 2014. "I view ministry as an expression of God's love. When a community of people gather to worship and serve incredible things can happen. We are building the Kingdom of God – here and now. Our call, as people of faith, is to do justice, love kindness, and walk humbly with God… God is wildly in love with us – even before we are aware of God. Grace Abounds in the love and life of Christ!" Matthew is an advocate for full inclusion of LGBTQ person's within the life and worship of the United Methodist Church. All are welcome and celebrated as beloved children of God here at Sonoma UMC. Matthew studied Theater, Music, and Religion in his undergraduate at Eastern Mennonite University in Harrisonburg, VA. He has studied improvisational theater with Washington Improv Theater in DC and The Second City Comedy Studies Program in Chicago. He has also acted in, teched for and directed a variety of stage productions. Matthew enjoys making music both as a hobby and as a spiritual discipline. He sings baritone and plays accordion, piano and guitar – and was on a clogging team for 6 years while living in Virginia. Matthew resides in Sonoma, a few blocks from the town square.