Simpsonville Christian Church
Simpsonville Christian Church
Who We Are
Vision: "A Community Made Exceptional by the Love of Jesus Christ"
Mission: "Making Exemplary Disciples Who Disciple Others"
We're Christians only, but we know that we're not the only Christians. We believe that God loves all of us. We have no creeds or doctrines. We believe in Jesus Christ, who meets us where we're at. We celebrate the Lord's Supper every week, and all are invited to the Table, no matter how or when you were baptized. If you are new on your faith journey, or have been walking it your whole life, Simpsonville Christian Church is a safe place to explore, ask tough questions, and find deep community. You are welcome to worship with us here, no matter where you've been.
About Us
Our Services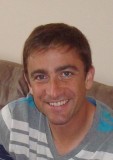 Joey Pusateri
Pastor
Joey Pusateri became pastor in January, 2013. He was born and raised in Louisville, KY, but has lived in Grapevine, TX, Bloomington, IN, New Orleans, LA, Lexington and Georgetown, KY. He is a graduate of Indiana University, with a Bachelor of Arts in Comparative Literature. He earned his Master of Divinity degree at Lexington Theological Seminary. He loves to run, write and read. His primary interests are theology, ethics, politics, history, culture and spirituality. He is the father of two beautiful daughters and husband to an amazing woman named Jennifer.