Shawnee, OK
Shawnee Presbyterian Church
Shawnee Presbyterian Church
A new church for Shawnee, Oklahoma
Shawnee, OK
Live Stream
Plan Your Visit
Who We Are
Love God.
Jesus said "You shall love the Lord your God with all your heart and with all your soul and with all your mind." Humanity's chief end is to glorify God and to enjoy him forever. We desire to be a community that longs to worship God and be transformed by the grace of the gospel.
Love People.
As we are transformed by God's love for us in the gospel, we will be a community that loves others. Jesus told his disciples, "A new commandment I give to you, that you love one another: just as I have loved you, you also are to love one another."
Love Shawnee.
We believe the gospel which is the good news of Jesus' life, death and resurrection does not just transform individuals, but brings transformation to families, communities, cities and the world. As a result we are committed to serving and loving Shawnee. We seek mercy and justice in Shawnee through the restoration of the gospel.
Our vision is to see our lives, our neighbors, and our city restored through the power of God's amazing grace.
About Us
Leadership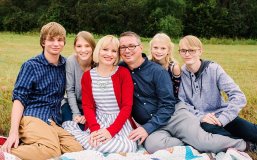 Matt Wiley
Pastor
Matt Wiley serves as the church planting pastor for Shawnee Pres. Matt and his wife Amy were raised in Oklahoma, met at Oklahoma State University and were married in 1998. They have four children, Gabe, Eli, Grace and Lydia. Matt graduated from Redeemer Theological Seminary with a Masters of Divinity in 2016. Matt served as a pastoral intern at Rockwall Pres during seminary and as an assistant pastor at City Pres in Oklahoma City.