St. Luke's United Church of Christ
St. Luke's United Church of Christ
No Matter Who You Are Or Where You Are On Life's Journey, You Are Welcome Here!
Independence, MO
Who We Are
St. Luke's United Church of Christ strives to enable members and friends to achieve a journey of life long faith learning.
St. Luke's United Church of Christ provides a nurturing center of worship, music, fellowship, study and life-long learning. We see faith as an ongoing and evolving process. We believe that witness and service flow naturally from our commitment to a living and guiding Jesus Christ. We strive to engage in open tolerant dialogue and conversation with one another and all who work to grow in faith.
About Us
Our Services
Leadership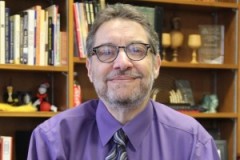 Rev. E. Paul Emily
Pastor
Rev. E. Paul Emily was called as pastor of St. Luke's United Church of Christ in February of 2015. He brings with him over thirty years of experience in ordained ministry. His ministry has included congregational settings and health care chaplaincy. Paul is a Magna Cum Laude graduate of Blue Mountain College in Mississippi and holds a Master of Divinity degree from New Orleans Baptist Theological Seminary. He finds the United Church of Christ to be a great fit for the ministry to which he is committed as a pastor. His focus is facilitating the work of God's transformation in the lives of those with whom he ministers. He utilizes his pastoral care training in the care of the members of his congregation who face issues of crisis, life transitions, aging, death and dying. Making the message of scripture relevant and applying faith to daily living are aims of his ministry. Two of his favorite theologians are Dr. Seuss and Walt Disney.