Who We Are
A Healthy, Exciting, and Life-changing church, expanding God's Kingdom
We know that sometimes going to church can be uncomfortable. Expectations from those attending often seem high and unattainable. We are not that type of place. We want you to feel comfortable worshipping God with us. We want you to feel respected as we learn about Jesus together. We want you to feel valued when you walk through our doors.
---
---
Our Services
Service Times
Sunday
09:00am

-

Sunday Small Groups For All Ages

10:30am

-

Sunday Worship Celebration
What to Expect
---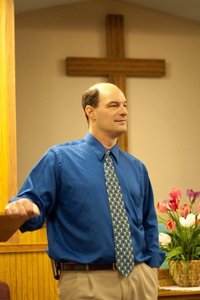 Todd Fuehrer
Pastor Todd has an incredible vision for Riverwood. "I believe that God can use Riverwood to effectively reach families who are looking for something real. Something that will address the entire family with situations and lessons that can be applied to daily life."
---
Hi everyone, I'm Bernice and a member of Riverwood Church with my spouse, Alan. We love the friendly, family , down to earth people, and casual way of worshiping God that Riverwood offers. Plus it's a great place for your whole family, we have the honor of sharing the sevice with our daughter and her family which is a great plus for us. Everyone here has a welcoming smile and great heartfelt HELLO just awaiting you as you enter the doors of Riverwood. Yes, we do have our problems in this world around us, but we step through the door of Riverwood and enter a great place to worship God with a great group of Christians that will pray for you. You are going to love the small, contemporary, cozy service and we have small groups of Bible studies Sunday morning and other times of the week. Riverwood has a great men's ministry which meets the first Saturday of the month for breakfast at 8:00am and women ministry, Chit Chat, is the first Saturday of the month for supper at 6:00pm Hope to see you at one of these. We love getting together here at Riverwood. Hope to see you this Sunday,
Create an account or sign in to save your experience.
Go here? Tell us why you love Riverwood. Visited? Tell us what a newcomer can expect.