Redeemer United Methodist Church
Redeemer United Methodist Church
Connecting people with the love and life of Jesus Christ
Dewitt, MI
Who We Are
Jesus Christ had a mission. He came to earth from heaven knowing his purpose. Even at the age of 12, he told his parents, "Did you not know I had to be about My Father's business?" (Luke 2:49). His single-mindedness, determination, and reliance on His heavenly Father's guidance ensured that at the end of His ministry, He could pray confidently. "I have accomplished the work which you gave me to do." (John 17:4)
He also had a vision. He saw the preferable future, the transformed humanity His mission would make. He knew what He had to be like ~ and what His followers had to be like ~ if the world was to sit up and take notice. He built a community of believers ~ only twelve at first ~ that would be the foundation of a vast network of followers who would fulfill His vision.
Jesus also had a plan. His ministry unfolded in stages. He had to be selective about the people and possibilities in which He invested. Disciples had to be chosen from among many people who were interested. Workers needed to be trained. Jesus sometimes moved on to a new ministry opportunity even when people wanted Him to stay. He recognized the need to be selective about "ministry growth" and choose what fit His long-range plan.
We who call ourselves Jesus' followers at Redeemer Church desire to carry on His mission. We also want to identify our core values and act consistently with them. While the message of Jesus Christ is timeless, the forms and programs we use to further His work are flexible. At Redeemer, we've concluded that if our church is going to be vital, dynamic, and have something to say to this generation, we need to determine what the core values are that do not change and what the changeable methods are for communicating those values to the world.
The mission of Redeemer Church is to "Connect people with the love and life of Jesus Christ." Through various ministries of our church, we desire that people not only meet Jesus but also over time, grow in their faith so that they live obediently to His commands and become conformed to His character.
Core Values
Redeemer Church is a collection of individuals who have diverse theological and cultural perspectives and differing values with regard to serving Christ. Yet certain common values unify our efforts and define our distinctiveness. These are the guiding principles - or core values - which define who we are:Jesus
•Jesus Christ is Lord. He is the center of our lives and His Spirit lives in us.
•The Bible is God's Word. It is our authority and guide.
•Worship is a celebration of our faith.
•Membership is a covenant where members support Redeemer with prayers, presence, gifts and service.
•Every believer is called to ministry. Spiritual gifts are given to us by God for us to use in service.
•All people matter to God. We have a deep concern for all people - the churched and un-churched.
•Family-based ministries are a priority.
•Excellence is strived for in all things. Excellence honors God and inspires people.
•Growth occurs best in small groups. Small groups encourage accountability, discipleship, and fellowship among believers.
•Prayer is the cornerstone of all we do. We believe in the power of God to hear our prayer and answer according to His plan.
The Sunday 8:15 am service is a traditional service while the Saturday 6:00pm, Sunday 9:30 and 11:00 am services are contemporary.
About Us
Leadership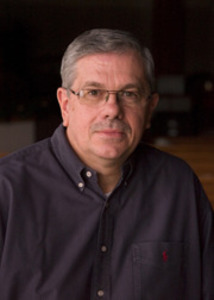 Rod Kalajainen
Rod Kalajainen has served pastoral appointments in the West Michigan Conference for 33 years. He has been the Lead Pastor of Redeemer United Methodist since 1988. He holds a Master of Divinity degree from Asbury Theological Seminary and a Doctor of Ministry degree from United Theological Seminary. He has led Redeemer in a "Turnaround" and actively coaches other pastors and churches in dealing with transformational change.