North Ridge Community Church
North Ridge Community Church
Connecting in community with Jesus and each other
Eldridge, IA
Who We Are
Casual Contemporary Community
Those three words summarize the experience you will have while worshiping at North Ridge. Each week we come together to worship our Creator with music that is current, messages that are relevant, and a community that is friendly and welcoming. Each week worship is followed by a time of fellowship. We invite you to join us as we connect in community with Jesus and each other.
About Us
Leadership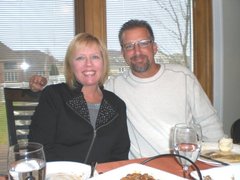 Doug Evenhouse
Pastor Doug grew up in a Christian home in Lansing, IL., a south suburb of Chicago. After graduating high school, he went to work for Waste Management as a driver and supervisor for 13 years. In 1995, he hung up his work boots to follow God's call into ministry. He served 4 years at Faith Reformed Church in South Holland, IL. (now located in Dyer, IN) as the youth and college ministry coordinator. He left his position there to study at Northern Seminary in Lombard, IL., where he graduated with a Masters of Divinty in 2003. After graduating from seminary he served as Associate Pastor at Munster Christian Reformed Church and left there to plant North Ridge Community Church in January of 2006. Pastor Doug married Nancy in 1986 and has two children, Mike and Kyle. He is an avid Chicago White Sox fan, loves playing disc golf, playing fantasy football, enjoys biking, working out, and fishing when he gets a chance. Pastor Doug also enjoys getting to know people over a good cup of Starbucks coffee, so feel free to make a connection with him by connecting on Facebook or e-mail.
The day I visite this church and was introduced to PastorDoug is the day I fell in love with it.. pastor Doug makes all of his perishinors feel loved and an important part of this family community. Love, respect, kindness and loving one another are the vital important parts of this congregation . Fellowship is very important too.