Who We Are
New Life Church of Garden City, Michigan is a Spirit-Filled Church full of friendly people with Pentecostal Worship and an Apostolic Faith.
About Us
Our Services
Leadership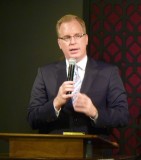 Pastor Chris Smothers
The people of New Life Church are a friendly, loving group of people that have become very important to me. After the loss of my 31 year old son, I was devastated and had no idea how to move forward with my life. Armed with the love, support and biblical guidance of Pastor Chris Smothers and the wonderful Saints of New Life, I am now able to find joy in living again. God put me in a place and surrounded me with people that have helped put my broken heart back together again. I will forever be grateful to each of them.