Scotch Plains, NJ
Kingdom Life Cathedral
Kingdom Life Cathedral
"Real People. Real Purpose. Real Progress."
Scotch Plains, NJ
Who We Are
KLC is a Christian church in the reformed-Anglican, Convergence tradition; in other words, we are liturgical, evangelical and pentecostal. What that looks like on Sundays is the Episcopal church, meets Hillsong, meets the Church of God in Christ. Our 90 min Sunday Worship Experience will leave you feeling inspired, encouraged and challenged to grow, glow and go for Christ. Who we are as a church can't be described, it can only be experienced!
About Us
Our Services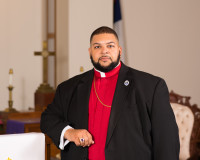 Bishop Kelvin C. Brooks, B.A.
Senior Pastor
Husband, Father of 3, & Author - Bishop is well versed in church protocol, and is a very capable teacher and preacher. He also serves as the Presiding Bishop of The Anglican Churches of Pentecost, an Instructor for Transfiguration Theological Seminary (Philadelphia, P.A.), and works full time in law enforcement/public safety. Bishop is also a tenacious Student; currently finishing his Master's degree with plans to attend law school thereafter. His passion for people is as palpable as his love for Christ and we are blessed to have him as our founder and Senior Pastor.