Who We Are
The mission of Immanuel Lutheran Church is to follow the command of our Lord Jesus Christ as found in Matthew 28:19-20a: "Therefore go and make disciples of all nations, baptizing them in the name of the Father and of the Son and of the Holy Spirit, and teaching them to obey everything I have commanded you." (NIV)
So that we might have a clear direction on how we will follow through on our stated mission, we have adopted the following mission statement:
"Proclaiming the unchanging Christ in a changing world"
In order to "make disciples of all nations," the mission and ministry of Immanuel Lutheran Church are to proclaim an unchanging God in the midst of a changing world. As the world changes, there are calls from inside and outside the church to adapt its mission and ministry to the ways and thinking of the world. But in situations where this is clearly opposed to the clear teaching of God as revealed in Holy Scripture, we as a people of God, brought together by His grace and mercy will continue to stand firm in the unchanging truth of His Word.
We will continue to love all people, and by the power of the Holy Spirit reach out with the saving message of the Gospel with the hope of bringing those who do not know Christ to the truth. But in so doing, we will not compromise God's clear teachings as revealed in Holy Scripture, and as expounded upon in the Confessional writings of the Lutheran Church.
By standing on the unchanging truth of God and His Word, we will, by the grace of God be a beacon of hope as we proclaim Christ Jesus and His unchanging truth as the only way to eternal life to the lost in our community, in this area of New England, and in this changing world.
About Us
Leadership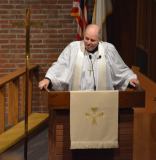 Rev. Donald Colageo
Pastor