Holy Spirit Episcopal Church
A Warm Welcome Awaits You! Loving, Inclusive, Involved, Spanish Services
West Palm Beach, FL
Who We Are
Holy Spirit is a diverse, welcoming community, We live out our motto of, "A Warm Welcome Awaits You! Our Mission - "We will boldly live out the love of Christ, and share God's grace through open hands and open hearts."
About Us
Leadership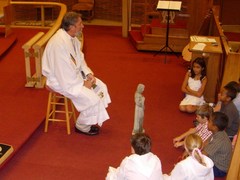 The Rev. Hallock Martin
Fr. Hallock Martin began his ministry at Holy Spirit in West Palm Beach in 1993. His understanding of shared ministry, sense of humor and love of the Lord have nurtured the community of Holy Spirit in those twenty years to be a truly open, loving and outward looking parish in the Diocese of Southeast Florida.