Greater Shiloh Missionary Baptist Church
Who We Are
"A Purpose Driven Church...Reaching the World for Christ"
We are an inner-city church in the heart of Birmingham, Alabama. We believe that a great commitment to the Great Commandment and the Great Commission will grow a great church!
Our Mission Statement:
The Mission of the Greater Shiloh Missionary Baptist Church is to Reach, Teach, and Baptize throughout the world beginning in our community, fulfilling the Great Commission by the power and presence of the Holy Spirit until Jesus returns.
Our Vision Statement:
We will fulfill this mission through Evangelism, Discipleship, Ministry, Fellowship, and Worship. The results will be Spiritual, Numeric, Ministry, and Mission growth.
---
---
Our Services
Service Times
Sunday
08:00am

-

Early Worship Service

09:30am

-

Sunday School for All Ages

10:45am

-

Worship Service
What to Expect
---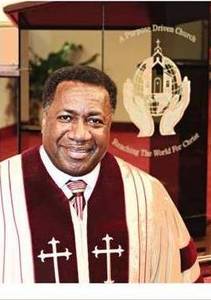 Michael Wesley Sr.
Dr. Michael W. Wesley Sr. is a native of Birmingham, Alabama where he was educated in the public school system. He graduated from Tennessee State University, Nashville,Tennessee with a Bachelor of Science Degree in Music Education. He received a Master's Degree in Music Education; a Class A certification in School Principal ship and the Educational Specialist Degree in Educational Leadership from Samford University in Birmingham, Alabama. In addition, Dr. Wesley received a Bible Diploma and Bible Certification from Birmingham Baptist Bible College. He completed the Beeson Institute for Advanced Church Leadership Program from Asbury Theological Seminary in Wilmore, Kentucky. Dr. Wesley earned the Doctor of Ministry Degree from Louisiana Baptist University and Theological Seminary in Shreveport, Louisiana May 2006. Dr. Wesley retired in 2003 after a brilliant 26-year career as an educator in the Birmingham Public Schools. He served as a teacher, assistant principal and principal of three different schools (Powderly Elementary; Arrington Middle and was the first African American principal of Woodlawn High School). He served on the Central Office staff as Extended Day Principal and Coordinator of Safe and Drug Free Schools. Dr. Wesley is regularly sought after to speak in both schools and churches. He has had the privilege of speaking across the nation and in several foreign countries. His spiritual gifts of teaching and preaching are well documented. He is a member of many organizations. His civic and professional associations are too numerous to mention. Most recent is the evidence of his leadership, occurred with the completion of a multimillion dollar edifice and education facility located in the heart of the West End community. Dr. Wesley is currently the pastor of the Greater Shiloh Missionary Baptist Church in the West End community where he has given twenty-six years of service. He has a great love for people and for learning. He is married to the former Venita Burkes, and is the father of two sons, Rev. Michael Wesley Jr. and James Edward, one grandson and one granddaughter.
---
I love the choir singing because I love to sing. My favorite song was total praise that was Good. So the choir is that I love about this church.

Brother Michael, I really enjoyed the message this morning, "Gods plan for the family". Your word from him is what this world needs, its what I need, it is the hope of Christ in me. Yes we all have our trials and temptations, but the word of God says, Let god arise and the enemy be scattered, in Christs love, Pastor Glenn

I have been under the leadership of Dr. M Wesley for over 23 years, all 3 of my kids grew up there, the teaching is powerful, learn so many lessons, I grew spiritually, I thank Jesus for him everyday
Create an account or sign in to save your experience.
Go here? Tell us why you love Greater Shiloh Missionary Baptist Church. Visited? Tell us what a newcomer can expect.