First Baptist Church
An American Baptist Churches USA church in Parsons, KS
Who We Are
We use both the Old & New Testaments of the Bible in regular worship and daily devotion. The Gospel accounts of Jesus are the foundation for our Christian faith, and the whole of the scriptures are inspiration for our daily lives. We put those teachings into practice at home and at work.
We also are a local body of baptized followers of Christ, who believe everyone has the right-- and duty-- to study the scriptures for themselves and let the Holy Spirit lead them in understanding. We believe everyone is equal before God, each a sinner saved by grace received through faith, no one greater than another, but each fully competent in Christ's righteousness to go to God in prayer and to be heard without need of any priest other than Jesus. Each gifted for service in various ways, we are peers & co-laborers together. We have no hierarchy, and bow before Christ alone.
About Us
Our Services
Leadership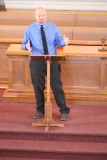 Travis Ball
Pastor
Before being called as pastor Travis was working as a Sign Language Interpreter in the education system, and attended First Baptist Parsons regularly. He helped lead a group for some time. As he led this group he found enjoyment in his time studying and preparing for Sunday mornings, and realized that he wanted more time to do so. When asked if he would be interested in putting in his name for the position, Travis thought long and hard, but then ultimately decided to do so. After many meetings with the search committee and the church as a whole Travis was called as pastor February 2018. Travis and his wife Katrina moved to Kansas in 2011, only 6 months after they were married! The two of them and their son, Bennett, live on a small farm the edge of town with their two cats, two dogs, and livestock. Travis' life verse is Micah 6:8 "He has shown you, O mortal, what is good. And what does the Lord require of you? To act justly, and to love mercy, and to walk humbly with your God."