First Baptist Church of Apache Junction
First Baptist Church of Apache Junction
Unleash the gospel to change lives, equip the church, and raise up leaders.
Apache Junction, AZ
Who We Are
"As Pastor I want to thank you for visiting our FaithStreet page! Here at FBCAJ, our vision is to unleash the gospel to change lives, equip the church, and raise up leaders. We strive to help you grow; first in your relationship with our Lord and Savior, Jesus Christ, secondly with each other as brothers and sisters functioning as the body of Christ, and thirdly, to reach out to people, sharing the gospel and the love of Jesus with those around us. We have programs for adults and students of all ages, and we are very active in our community. Our free Thursday night winter gospel concerts have been a favorite ministry and outreach for the winter family here in our community for decades! Likewise, our Christian Challenge college ministry has seen several young adults come to faith in Christ through Bible studies on the local college campus, challenging spiritual retreats, and fun fellowship events. We are a church with a passion and a vision to "unleash the gospel" in our community! So whether you are single, married, young or old ... there is a place for you at First Baptist Church! From our family to yours, welcome to the First Baptist Church Family."

Pastor Chris
About Us
Our Services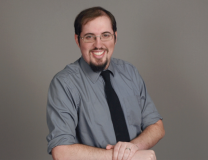 Christopher Baker
Pastor Chris has a strong passion for preaching the gospel, teaching God's Word, and discipling people of all ages to diligently pursue God's call on their life.