First Baptist Church of New Market
First Baptist Church of New Market
Who We Are
We are a multi-cultural community of people saved by grace through faith in Jesus Christ, empowered by the Holy Spirit and united by His cause to spread the word that Jesus Christ has Risen, is Alive and wants to have a personal relationship with you.
About Us
Leadership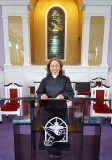 Rev. Gina Jacob-Strain
Transitional Pastor
Correction Rev Jacalyn Madison McCreary

Our church Pastor is now Rev Jackalyn MadidonMcCreary who speaks the word of Christ with love and understanding a each person.