Bridgewater, MA
Family Life Pentecostal Church
Family Life Pentecostal Church
Where the people are real and Jesus changes lives!
Bridgewater, MA
Who We Are
Come experience the true God of the Bible
'For the promise is unto you, and to your children, and to all that are afar off, even as many as the Lord our God shall call. . . And they continued stedfastly in the apostles' doctrine and fellowship and in breaking of bread, and in prayers . . . Acts 2:39 & 42
A Family Church Helping Families To 'Do' Life!
Founded 1995 (became Family Life Church in 2015)
About Us
Our Services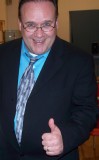 James Parker
Co-Pastor
Pastor James and Pastor Carolann have been serving the Lord at Family life Church for the past 8 years. They love helping people who are broken and hurting find hope, healing and life in Jesus.
You will know us by our love one for another

Jesus wants believers and disciples come grow with him