Faith Lutheran Church
Gathering people to build relationships in Christ!
Magnolia, AR
Our Services
Leadership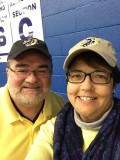 Rev. James Jobst
Pastor
Pastor Jim was born in Iowa. He is married and his wife's name is Vivian. They have two grown daughters. Jim graduated from Concordia Seminary-St. Louis in 1995. He has served as an Assistant Pastor of Youth and Family Life in Spring, TX and as a mission developer in Northeast Kansas for the past 14 years. Jim was called to Magnolia to shepherd Faith and to be a missionary-at-large developing house churches in the southwest Arkansas area around Magnolia.