Real Life Community Church
Real Life Community Church
Who We Are
Real Life Community Church in Richmond, Kentucky is a growing community of people with a straightforward purpose. Our mission is to Equip people to be Real followers of Jesus. We present the message of Jesus to people who otherwise would never hear it and by this focus is how we do all that we do.
Real Life Community Church is an Assemblies of God church located in Richmond, Kentucky. Our fellowship is comprised of authentic followers of Jesus, who aim to glorify God in all that they do.
Our church has the desire to reach our community, meeting both the physical and spiritual needs of those who are hurting. Our pastors are committed to preaching the all the Gospel for all people.
About Us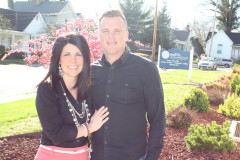 Chris May
Lead Pastor
Chris May serves as Lead Pastor at Real Life Community Church. Growing up in Winchester, KY, Chris has a heart to reach people in his home state. He was transformed by the power and love of Jesus at the early age of seven, and has been serving in vocational ministry for over fifteen years. Chris is a licensed Assemblies of God Pastor, and he holds a B.S. in Psychology, as well as a Certificate in Biblical Studies, both from Colorado Christian University. He is strong leader and visionary, a dynamic speaker, and an accomplished musician. Chris is an avid U.K. Basketball fan, and he enjoys reading, playing guitar and keyboard, and exercising. He loves spending quality time with his wife, Niki, and his two boys, Dylan and Connor.