Dunn, NC
Dunn Church of God
Dunn Church of God
A Church of God church in Dunn, NC
Who We Are
We are a small church that wants to reach our community for the kingdom of God. Our motto is: "Is your family messed up? If so,we want you."
About Us
Leadership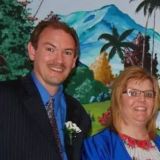 David Lewayne Porter
Spirit-led service (John 16:13-15), Family atmosphere (Acts 2:46-47; Col 1:18, 2:19), liberty to worship (2 Cor 3:17)!