Roanoke, VA
Cowboy Church of Virginia
Cowboy Church of Virginia
A Place where Everybody is Somebody and Jesus Christ is Lord
Roanoke, VA
Who We Are
CCofVa. has several locations throughout Virginia and West Virginia with it's main offices in Roanoke, Va. Cowboy Church of Virginia is a worship experience designed to draw people of every faith and from any background! Sounds impossible, right?!
Well, it is not and CCofVa. has been reaching hundreds since 2004.
There are 5 characteristics that make a Cowboy Church:
1. Non-denominational
2. No membership
3. No offerings collected
4. No dress code
5. Non-traditional settings
If you remove any one of these, then no matter the name out front, it simply is not a Cowboy Church.
Come experience Jesus as you never have before!
Tuesday - The Music Barn Blacksburg, Va.
Wednesday - Hollins Library, Roanoke, Va.
Thursday - Scott's Strawberry Farm, Moneta, Va.
Saturday - Augusta Expo Fishersville, Va.
Sunday AM - Ruritan Club, Mt. Crawford, Va.
Sunday PM - Moose Lodge, Vinton, Va.
About Us
Our Services
Leadership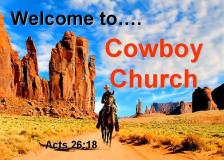 Raymond Bell
http://cowboychurchofvirginia.org/index.php/homepage-20