Stockbridge, GA
Community Bible Church
Community Bible Church
Transforming Lives through Hope
Stockbridge, GA
Who We Are
Whether you are a follower of Christ or not sure what you believe, there is a place for you at Community. Our goal is to make you feel comfortable and informed from the time you drive on campus until the time you leave. We strive to create an environment that is safe for those who have questions while providing resources and growth opportunities for believers. Join us this Sunday for one of our energizing, creative worship services and be sure to get connected in one of our many small group opportunities. I look forward to meeting you!
~ Dr. Beau Adams

The purpose of Community has remained the same over the last four decades: to connect people with Jesus Christ through relevant messages, powerful worship and servant leadership. As Pastor Beau puts it, "the method may change from time to time but the message remains the same."

Community is a safe place for those seeking answers as well as those who need acceptance and love as they heal from habits, hurts and hang-ups. With His divine creativity, God continues to write Community's story. We believe that each person who walks onto this campus has an important chapter to add. Whether you know the truth of Christ or have tons of questions, Community is the place for you.
About Us
Our Services
Leadership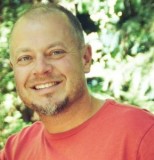 Beau Adams