Natick, MA
Common Street Spiritual Center
Common Street Spiritual Center
Be the change you want to see.
Natick, MA
Who We Are
We are an inclusive, love-centered community that values many spiritual paths.
We seek to connect to our own inner spiritual centers & support one another in manifesting what flows out of those centers.
Together we celebrate life through creativity and the arts & work for peace, justice and the healing of Earth.
*Sunday Circles for connection and inspiration every Sunday at 10:30am*
*Come as you are.*
*Please see our online calendar for a listing of events and programs at our center.*
About Us
Leadership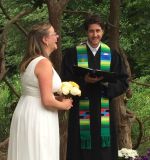 Ian Mevorach
Minister and Co-Founder
Rev. Dr. Ian Mevorach, co-founder of Common Street Spiritual Center, is grateful to be part of the creative process of building and leading this new community, according to the vision that God continues to grant. Ian is most grateful for the creativity, integrity, and vision of his wife, Amy, who has been his partner in this endeavor to co-found an inclusive and vibrant spiritual community in Natick, MA. Ian's major theological influences in this endeavor are Roger Williams and Howard Thurman, two unconventional leaders in the free church tradition. Williams pioneered the ideas of freedom of conscience (aka "soul liberty") and separation of church and state in colonial America. Thurman founded the Church for the Fellowship of all Peoples in the 1950's in San Francisco, the nation's first inter-racial and, later, inter-faith congregation. The members of the Common Street community have taught him a great deal in two short years, and are also co-creators of this new community of faith. Together with his wife Amy and the whole Common Street community, Ian is seeking to discover a new model of ministry for the 21st century, which promises to be a time of great social transformation on many levels, including in regards to religion and spirituality. Ian grew up on Long Island, NY, in an interfaith family (Jewish father, Catholic mother); as a child he learned the value of love and acceptance of persons of other faiths, cultures, and backgrounds. His spiritual journey has led him into dialogue with many other faith traditions, philosophies, and spiritualities besides Christianity, a dialogue which continues to strengthen and deepen his commitment and practice as a follower of Jesus. Ian is married to Amy Mevorach, and together they parent four wonderful young daughters. Rev. Dr. Mevorach holds a B.A. in Philosophy from Middlebury College, an M.Div. from Boston University School of Theology (BUSTH), and a Ph.D. in Theological Ethics and Constructive Theology from BUSTH. His dissertation, in the field of ecological theology and ethics, explored the role of religion and spirituality in the ecological crisis. Spiritually, the ecological crisis is a result of our loss of awareness of the sacredness of creation; to reverse the crisis, we need to restore our spiritual vision of nature. He represents the American Baptist Churches USA on the board of Creation Justice Ministries, a national, multi-denominational environmental justice coalition. He recently published a book chapter titled "Stewards of Creation: A Christian Calling for Today's Ecological Crisis", which appeared in For Such a Time as This: Young Adults on the Future of the Church (Judson Press, 2014). He is active in the movement for peace, justice, and the integrity of creation that includes people of conscience from all cultures, spiritualities, and generations. Please feel free to reach out to Ian by e-mail at
[email protected]
or by phone at 508-655-9636. His open office hours are generally on Tuesdays from 1-3 and Wednesday afternoons from 2-4, or by appointment.