Somerville, MA
Christ The King Somerville
Christ The King Somerville
Grace Changes Everything
Somerville, MA
Who We Are
The foundation of Christ the King Somerville is the strong belief that the gospel of God's amazing grace changes everything: ourselves, our families, our communities, our cultures, our cities, and our world.
From this foundation flows our mission: Christ the King Somerville exists to see our lives, our neighbors, and our city transformed by the true story of God's grace.
About Us
Our Services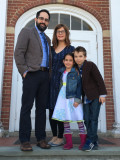 David Richter
Lead Minister
David and Kelly Richter met in Nashville, TN, in the fall of 2000 while Kelly was working for a local troubled girls' home and David was serving as an intern with Reformed University Fellowship at Vanderbilt University. They were married in November of 2002 and almost immediately moved to Scotland to do short term mission work with a local city-center Free Church in the heart of Edinburgh. After their return from the mission field, David and Kelly attended Covenant Theological Seminary in St. Louis, MO, where Kelly earned a masters in counseling degree and David a masters of divinity. Then, in the summer of 2007, they moved to Rochester, MN, where they lived and worked at L'Abri Fellowship and David served at Trinity Presbyterian Church. In November of 2008, David was hired by Trinity to serve as their associate pastor and has continued in that role until the present. The Richters have two wonderful children, Sam and Luci. In September of 2011, the Richters were invited and attended Mission to North America's Church Planting Assessment Center in Atlanta, GA. As a result of their assessment, they were fully approved by MNA to pursue church planting and began to explore different opportunities around the country. Then, in October, they were contacted by Bob Sawyer, the director of CTK Boston's Church Planting Center. Over the next several months, the Lord began to knit the Richter's hearts to the city of Boston and particularly the neighborhoods surrounding the Davis Square, Powder House Square and Teele Square areas of Somerville, MA. In May of 2012, the Richters were officially called by CTK Boston to plant a church in Somerville and to become the next site congregation of their multi-congregational church.