Washington, DC
Christ Church on Capitol Hill (DC)
Christ Church on Capitol Hill (DC)
Episcopal, Capitol Hill, Children, welcoming
Washington, DC
Who We Are
We are markedly different from most inner city parishes. Most of us live in the neighborhood and have called Capitol Hill home for more than a decade. We often see the same people at church, when we are at work, while walking the dog, out with our kids or participating in Hill events. We take pleasure in the ability to walk to church and enjoy the small town feel our neighborhood and church provide. This proximity fosters a sense of closeness and community both within the parish and in our neighborhood at large. Almost a quarter of our parishioners live outside the neighborhood and also add vibrancy and gifts to our parish; they appreciate that we always have plenty of Sunday morning parking!
Our parish has a rich tradition and unique history that holds fast to a strong faith and commitment to caring for our members and our neighbors. We value our diversity. You will find all kinds of people at our worship. If you stay for coffee hour, you will hear a range of perspectives. We embrace this aspect of ourselves, and we look forward to those looking for a spiritual home here on the Hill joining us.
About Us
Leadership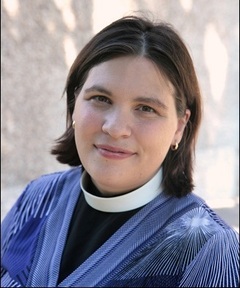 The Rev. Cara Spaccarelli
The Reverend Cara Spaccarelli is the 28th rector of Christ Church. Cara's passion in ministry is for drawing people into the community of the church and encouraging the spiritual growth of members, newcomers, and strangers alike. Born in Cincinnati, Ohio, Cara was raised in the Episcopal Church. She received her MDiv at Episcopal Seminary of the Southwest in Austin, Texas. Ordained in 2006 in the Diocese of Minnesota, Cara served at St. Mark's Cathedral in Minneapolis for four years. Cara lives in Capitol Hill with her husband and 2 young boys.