Reno, NV
All People Christian Church
All People Christian Church
A Church OF All People, THROUGH All People, TO All People.
Reno, NV
Who We Are
All People is a non-denominational, Spirit-filled church committed to reaching out and touching the lives of students, singles and families within our community. When you visit All People, you will experience contemporary praise and worship, hear messages that apply to daily life, make new friends, and experience a true spiritual family for students, adults and kids of all ages.
All People, as our name implies, is committed to strengthening relationships between all people. We believe Jesus Christ transcends all ethnic, generational and cultural boundaries. We're also working to keep the family together. Our nation is witnessing the rapid disintegration of the family unit and we want to strengthen and support existing families and be a family to those without one.
All People Christian Church has a very relaxed, casual atmosphere that helps people feel comfortable. We are a life giving church, and a place where you can learn how to become a disciple of Jesus Christ as well as help others become disciples of our Lord. This is what you will experience at All People. We would love for you to join us!
About Us
Our Services
Leadership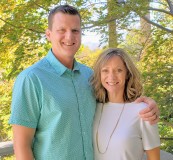 Bret Holman
Lead Pastor
Pastor Bret & Jorie Holman committed their lives to Christ as college students through a church-based campus ministry in Los Angeles. Since getting married and become campus missionaries a couple of years later, they have served as the International Campus Directors for Every Nation Ministries as well as planted their first church in Las Vegas (Life Christian Church). They have four beautiful children, three girls and one boy, and and have returned to Reno (Bret's original hometown) to plant All People Christian Church - a church dedicated to reaching students, singles and families of ALL ages and ALL backgrounds! Bret is a graduate of the University of Southern California (B.S. - Business Admin.) and of Fuller Theological Seminary (M.A. - Global Leadership), and enjoys playing golf, fitness, gardening and being a father. Jorie is a graduate of California State - Long Beach (B.A. - Recreation) and enjoys dancing, ice skating, reading and being a mother.